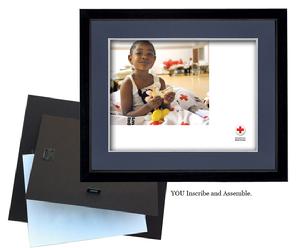 Kit Example
MSWord Template Downloads for Red Cross Products

Download our MSWord files to help guide you to personalize your Berkeley Tandem & Fusion Frames recognition products. On this page you will find a list of product templates. This corporate page makes it easier for you to download your template as many times as you want without signing into our shopping cart on our shopping site.


All templates are set in font approved layouts at a size that has been professionally designed to be pleasing to the eye when printed on the paper that will arrive with your frame. You may customize your text in these word documents however you choose. Color graphics will come pre-printed on the provided certificate paper.


TIPS: In order for the text to display correctly you must be using the fonts Georgia or Akzidenz Grotesk (Arial and Times may be substituted.) If you are placing your donor logo into the personalization, please check the art is of the highest quality and your printer is set on the highest print quality to get the best results. Images taken from a web page will not reproduce crisply. Test print first and review the text in the frame before printing on provided paper.


Questions? Call 800-833-4438


The current list of templates below are the most up-to-date products available to personalize. As we receive feedback, we will offer more products in an inscription kit format in order to make them more affordable, personal and immediate.


Berkeley Tandem does offer personalization and custom design services. The personalization service includes a professional digital print out for your frame. To purchase this service, please include it during the product check out on our shopping site.
| | |
| --- | --- |
| Hurricane Sandy Template | Download the MSWord files that correspond to your frame kit. Read instructions provided in the downloaded document. Change the text. Print on certificate paper shipped to you in your award frame kit with pre-printed photo and Red Cross logo. These templates work with all ICON Frame kits offered on our Red Cross Product Site. |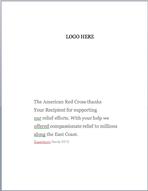 This is the template for the Medium Thank You Frames.
We will soon be adding our chapter recognition products to our site that currently is selling Donor Recognition. We are working closely with NHQ to make those products available to you. updated 12-14-12
Envoy Product Template

Download the MSWord file for our ENVOY chapter recognition products. Change the text. Print on certificate paper shipped to you in your award frame kit.

This template works with these products:





For Questions or Assistance During Business Hours CST 800.833.4438
Website powered by Network Solutions®